How to use Modbus TCP with Alleantia ISC Software?
Alleantia Modbus TCP Gateway allows data exhange to PLC, SCADA and MES systems using Modbus protocol
Modbus TCP feature makes the system data accessible to external software via the Modbus protocol enabling, for example, the integration with SCADA systems, regardless of the protocol used by devices to which the Alleantia ISC is connected upstream.
Follow these simple instructions now to use the Modbus TCP Gateway:
Open the Alleantia ISC Software Application
Go to "Configuration" section from the main navigation bar and enter the credentials


Go to "Communication" tab
Click on "Modbus TCP Gateway" button
In the Offset field leave 0 if Modbus port is available. If Modbus port is already used you can modify the Offset.
To create automatically the Modbus map with information and download it in Excel format, including the configured information set, click the Download Modbus map (Excel. XLSX) button.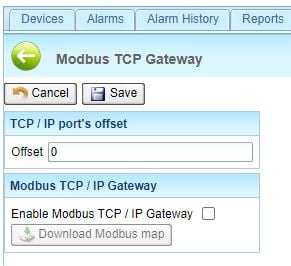 ---
If you need support don't hesistate to contact us