A OneDrive for Business account can be indicated as an additional destination for the backup files.
The OneDrive Business account can also be used to upload the documents generated by your industrial IoT gateway, Alleantia ISC, on the Microsoft cloud. Before connecting OneDrive for Business account make sure internet connection is available on the device from which you are configuring.
It is possible to synchronize OneDrive Business account only.
Go to Configuration -> Cloud Services -> OneDrive and press the Connection button to start the connection procedure of the ISC to a OneDrive for Business account.
The popup window will open with a request to insert email and password of the account to be synchronized. If successful, the account appears correctly connected. The Alleantia ISC will synchronize with the OneDrive for Business cloud for the backup saving.
At this point the Send button of ISC can already be used to send documents on OneDrive for Business. To disconnect the account in the future, simply press the Disconnect button.
If you want to enable the sending of backups to OneDrive for Business, press Enable OneDrive remote backup and choose a destination folder for the files by clicking on the appropriate button.
To test the backup feature, send a test file to the specified folder by pressing the Send button. When finished, press the Save button to save the configuration.
FTP Backup
The remote backup function to FTP provides for the creation and sending of daily backups of Alleantia ISC data and the configuration on an FTP server in order to ensure recovery in case of hardware failure of the internal hard disk.
To use this function an FTP server must be available on which to make the transfer, as well as all the parameters necessary for its access, which are to be entered in the Configuration -> Cloud Services -> FTP remote backup section: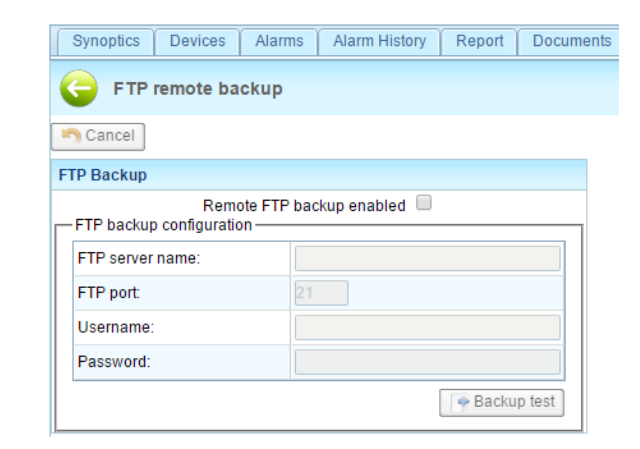 A test file can be sent to check the correctness of the settings entered by pressing the corresponding Backup test button.
---
If you need support don't hesistate to contact us