Brings IT security to operations with encrypted data from less capable endpoints, and privacy and data security best practices to the cloud and datacenter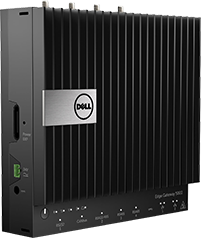 Dell approaches IoT in a pragmatic way to help clients plan, create and generate ROI quicker. We rely on a 3-point solution approach for sustained success and client satisfaction:
• Start simple with what you have.
• Architect for analytics.
• Build in security first.
Protection is built in: Our hardware features help protect your network edge and sensors from cyberattack, including a secure boot and BIOS-level control.

Keep your guard up, costs down: Minimizes network cost while aggregating and securing IoT data at the edge of the network, and performs local analytics and real-time actions where network latency is a problem.

Your personal security team: Dell brings IT security to operations with encrypted data from less capable endpoints, and privacy and data security best practices to the cloud and datacenter
Get the datasheet click here below: