The CGR 1000 Series Routers are ruggedized, modular platforms on which utilities and other industrial customers can build a highly secure, reliable, and scalable communication infrastructure.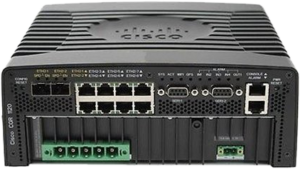 The Cisco® 1000 Series Connected Grid Routers (CGR 1000 Series) are versatile communications platforms built to meet the communication infrastructure needs of industrial verticals such as utilities, energy, and smart cities. These routers allow utilities to integrate multiple applications, such as Advanced Metering Infrastructure (AMI), Distribution Automation (DA), integration of Distributed Energy Resources (DER), and remote workforce automation onto a single platform. The CGR 1000 Series supports outdoor wired and wireless sensor networks, enabling applications such as street lighting, smart parking, and other smart city applications.
Product Overview
The products are certified to meet harsh environmental standards. They support a variety of communications interfaces, such as Ethernet, serial, cellular, Radio-Frequency (RF) mesh, and Power Line Communications (PLC).
The Cisco CGR 1000 Series run Cisco IOS® Software, the operating system powering millions of Cisco routers worldwide. Grid operators gain the benefits of Cisco IOS Software's wide variety of Layer 3 services such as FlexVPN. The distributed intelligence capabilities of the CGR 1000 Series allow customers to run 3rd party applications such as application protocol translation, distributed data processing and filtering, and application security on the routers directly leveraging Cisco IOx - an open, extensible environment for hosting applications at the network edge.
The Cisco CGR 1000 Series includes two platforms, shown in Figure 1: The Cisco 1120 Connected Grid Router (CGR 1120), which is designed for indoor deployments; and the Cisco 1240 Connected Grid Router (CGR 1240), which is a weatherproof router in a NEMA Type 4 enclosure for outdoor deployments.
Click here below to get the datasheet: