The Cisco® IC3000 Industrial Compute Gateway transforms businesses by capturing data from legacy assets and deriving business intelligence at the network edge.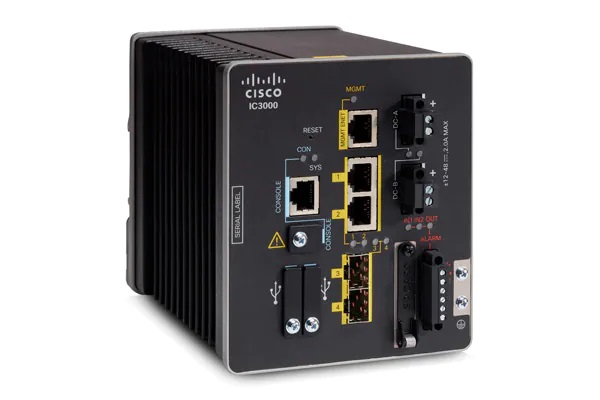 Product overview
The Cisco IC3000 Industrial Compute Gateway extends data intelligence to the edge of the Internet of Things (IoT) network to seamlessly bridge the intent-based network and IoT data fabric in a complete end-to-end solution for applications such as intelligent roadways, smart factories, and so on.
The IC3000 gateway is built with the same industrial success as the Cisco Industrial Ethernet 4000 Series Switches hardware design, but is dedicated to bringing intelligence to the edge. It has two Ethernet ports and two Small Form-Factor Pluggable (SFP) fiber ports in a DIN rail-mounted, ruggedized appliance that provides the widest range of applications for the harshest and most demanding industrial environments.
The IC3000 gateway delivers the next level of computational power, up from IR 809 and IR 829, for applications that demand more processing power for data analytics and real-time critical decision making at the edge of the IoT network. It enables smart roadway applications such as traffic pattern detection, hazardous weather warnings, and road condition detection. With built-in interfaces that support a wide range of industrial standards and a simple development toolkit, the IC3000 enables application developers to unleash their creativity in creating apps that harness the wealth of IoT data.
The Cisco IC3000 Industrial Compute Gateway is fully supported by Cisco IoT Field Network Director for zero-touch deployment, lifecycle management, application management, monitoring, and troubleshooting securely at scale from a single pane of glass. With its support for the Cisco Kinetic™ Edge and Fog Processing Module, which computes data in distributed nodes, it seamlessly integrates with the Cisco Kinetic Data Control Module, which moves the right data from a diverse set of devices to the right cloud-based applications at the right time, according to policy set by the data owner.