From Cisco Networking devices, directly to Enterprise and Cloud Apps, without any IoT gateway needed.

The integration between the Alleantia ISC software and the Cisco IOx operating system, currently running on some of the most popular Cisco network devices such as CGR 1120 Router and Switch Catalyst 9000 series, promises to revolutionize the Industry 4.0 sector by transforming the data normally carried by Cisco devices in valuable information and to make them intelligible and usable in real time by cloud and enterprise applications.
This innovation allows, for the first time in history, to complete these operations without using any additional hardware, avoiding all costs related to its installation and use, making the approach to the IoT world and Industry 4.0 even easier and plug & play.
Less components, reduced installation and work time, easily interconnected machines and data transformed into information faster and safer. Cisco DevNet team, confirmed the perfect compatibility of Alleantia technology on IOx, the computing infrastructure distributed on Cisco network devices to guarantee industrial safety.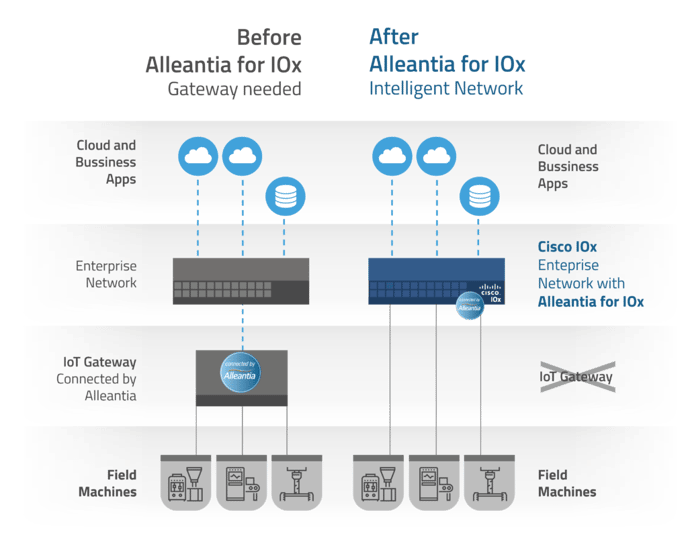 To support the integrators who want to approach this new technology, a sandbox is available for free on the Cisco DevNet cloud. (https://developer.cisco.com)
Thanks to this exceptional and revolutionary interoperability, Alleantia's edge software will simply work as an app. After being downloaded from Cisco Marketplace and installed on Cisco devices, the Alleantia software will enable them to transform the flow of data into relevant information and to prepare them to be read and used by all business applications and cloud platforms.