ADAM 6052 DC Input/Output Modules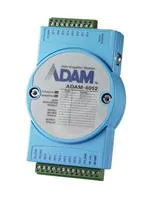 Advantech ADAM-6000 Ethernet I/O Modules offer a controller independent, distributed I/O solution with modular design for maximum flexibility. Powerful onboard intelligence makes them ideal for SCADA and stand-alone control applications.
The modules have built-in web servers so their data can be viewed, anytime, anywhere via the internet. Users can also configure user-defined web pages to meet application needs.
With this powerful function, the ADAM-6000 series breaks the boundary of traditional multi-layer automation architecture and allows users to access field data directly in real time, which enables seamless integration between the plant floor and the front office.
ADAM-6000 can be fully integrated with standard HMI software that supports Modbus TCP/IP, including Advantech Studio.
Check data sheet here below
ADAM-6000 Ethernet I/O Modules
Watch the video below, to know how to configure the module